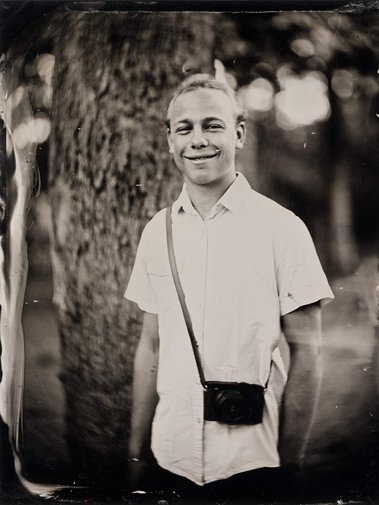 Born and raised in Berlin, Finnegan Koichi Godenschweger grew up with a particularly open outlook on the world. Starting early, with a fascination for moving pictures, he shot his first animated short film in 8th grade. During his travels to New Zealand a couple of years later, he developed a deep passion for moving images and photography. After finishing high school Finnegan started gathering a variety of practical experience including the photo documentation of his travels to New Zealand, India, Sri Lanka, China, Thailand and Egypt, which was exhibited at FEEDBACK festival in Dortmund in 2019. Driven by his passion for creating images, he started working on film sets, shooting some projects himself, while taking still photography out of private interest. Loving to work with different people and being inspired by engaging in a variety of different projects and settings, his urge to pursue still photography besides filming has grown over the years.

By now he has shifted his focus to photography where he likes to work independently and with dedication to the single projects. From shooting intimate portraits of artists, actors and actresses, to documenting the making of movies like "Subtext" (directed by Sophie Linnenbaum), shooting on events and small commercial productions for AMORELIE: his passion lies in capturing the authentic and raw magic of people and situations.
In his role as a photographer, he sees his calling not only in transferring real moments into pictures, but also in connecting people and creating new synergies with unexpected outcomes. Through his photography, he aims to open new worlds and make them tangible.
"To me, collaboration is one of the greatest joys in life — and in photography. It's the ping pong game of ideas and impulses that creates the unpredictability of a moment and the uniqueness of a photo. "
20 years va-Q-Tec AG corporate anniversary
48 Stunden Neukölln culture festival
AEIOU – The fast alphabet of love feature film
Amorelie commercial video shoot
Auf Platte short film
Christoph Maria Herbst on-location
DokumentART filmfestival
Eißpin der sehr Schreckliche short film
Feedback Festival Dortmund photography exhibition
FitX fitness studio
Generation Daughter feature film
Jüdische Allgemeine newspaper
KIZ – Rap über Hass music video shoot
NeoNext event marketing agency
Nils Schwarz photographer
Pacha Surf Kiteschool Montenegro commercial shoot
QOU collective artists collective
Reizstoff short film
Spieß short film
Starksee - Calling musikvideo
Subtext directed by Sophie Linnenbaum, feature film
Udo Kier on location
Worth Fighting For short film
Various portrait shoots with actors and artists